Someone may consider it pseudoscientific, but we believe it: the proximity and interaction with
animals can "warm up" and be therapeutic. In particular, dogs and cats that have lived in our homes for millennia. No need to mention the ancient Egyptians and their "sacred cats", nor the scientific evidence that demonstrates the benefits of Pet Therapy or hippotherapy and more; it would be useless because we know it is enough to take a cat in your arms, hear its purrr, to smile and let yourself go to a sweet and hypnotic relaxation.
And if someone reminds us that in fact the purr of a cat and its frequency is similar to that of classical music and has important therapeutic properties, we tell him that yes, we surely know it.
At Borgo Piazza we do not offer professional Pet Therapy treatments because our animal friends are not trained for this, but may be because of the energy of the place and their natural aptitude, they are special Masters of play and relaxation. Wonderful self-taught animals.
Our Lilla is a very sweet and welcoming Maremma shepherd, a little advanced in age, but carrying her years very well. She loves being always together with everyone (even more with children). When you arrive she will probably be the first you will meet. You will witness her "drama": just to show you that she is a good guardian, she will bark a little bit but, as soon as you get close, this mask will miserably fall and she will show herself in all her goodness with her speaking sweet eyes… When you take a walk on our paths, she will accompany you with joy; when your children want to play a little, she will play with them (but don't pull her tail, please! She doesn't like it). When you want a hand, or a paw, she will give it to you. In short, at the end of your stay you will miss her, believe us.
Our many cats are no less! We have about ten of them; some live permanently inside, others  outside, and others here and there.
They cyclically give us their brood of cute kittens: some will become sweet and affectionate, others more proud and "wild", but any of them, everyone, will make you smile, there is no doubt. You can see them perched behind the restaurant kitchen, sleeping or playing together, climbing trees and jumping through hoops… all their elegant movements will give you a good mood for free. Also in this case, children are their favourite companions: as soon as you arrive, each child can choose a kitten to "adopt" for the duration of the stay, and take care of it personally. What else can we tell you except that the cats of Borgo Piazza are really special?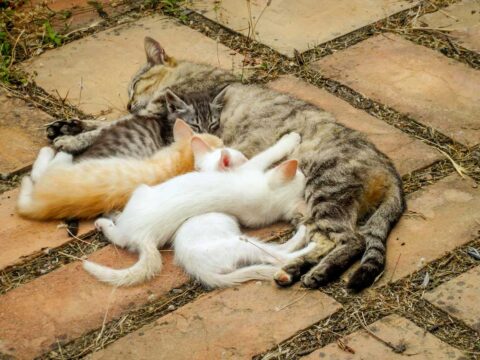 Here you can also easily meet traces of the wildlife or have chance encounters with a fox or a badger, or a stone marten, even a wild boar… In addition, our small zoo has two very nice geese: Alfonsina and Guglielmina Bla Bla of a famous Family. By the way, the Duchess of Squillace and the Countess of Borgia are a bit haughty, perhaps due to the noble blood and the kinship with Abigail and Amelia. But be careful to tell them too much about yourself, they have the bad habit of gossiping excessively.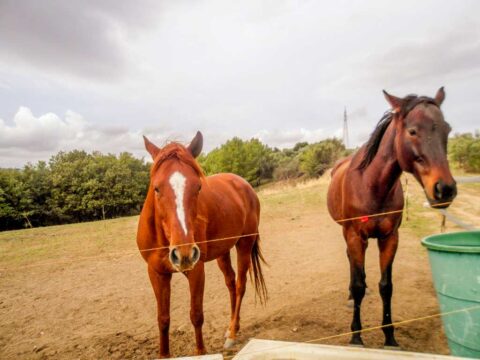 Majestic and proud of their noble history are the 3 horses that we host in the Estate. We do not have a riding school and it is not possible to ride them, but they are very tame and will gently approach your hands, eager for a caress.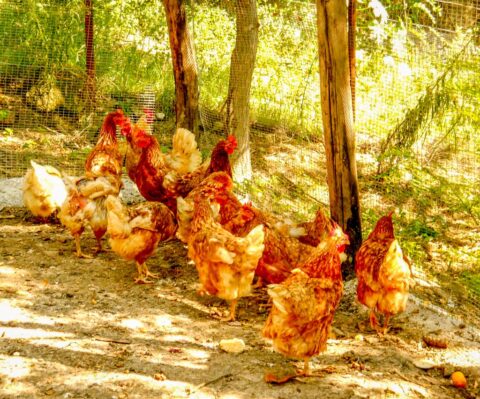 We cannot fail to mention our hens, also because in many of our preparations you will taste their fresh eggs! And we are waiting for 3 sheep that are about to arrive…
Finally, we also have bees who create, it is really appropriate to say, with their ancient wisdom, our honey. Since we have them, the pollination process from which the fruits are born has undergone a notable increase. But remember, although you can get there in a safe way, it is better not to get too close…
CONTACT US FOR INFORMATION
Ask for further information about this service
By Email
Info and reservations: info@borgopiazza.it
By phone
From 9 AM until 1 PM o'clock and from 3 PM until 6 PM
Elvira: +39 349 7811695
Marco: +39 392 5108591
Paolo: + 39 338 6546664